Here's the final piece of artwork I made for the recent Bug releases…
THE BUG vs EARTH 'Boa/Cold' USA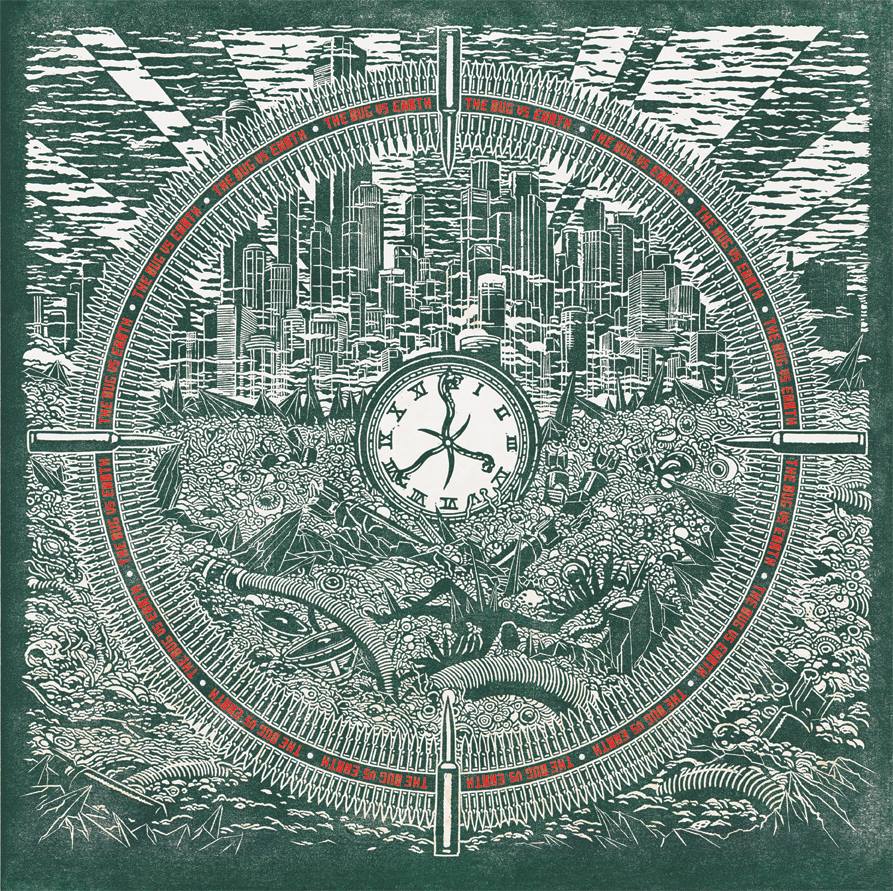 'Black Friday' record store day release via Ninja Tune.
www.recordstoreday.com/SpecialRelease/7580
At War With Time (The Bug – Angels & Devils Inner Gatefold Artwork)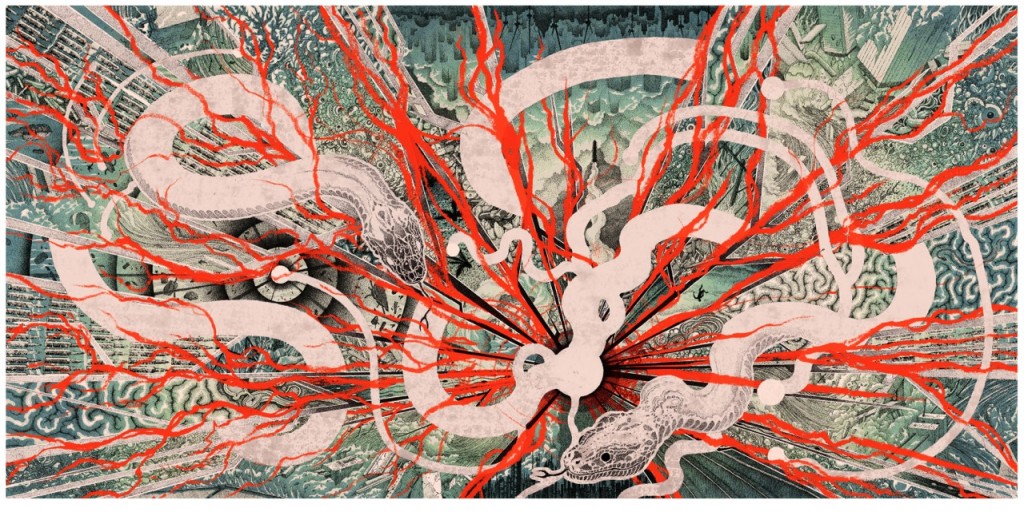 Irrational Power – Vinyl carving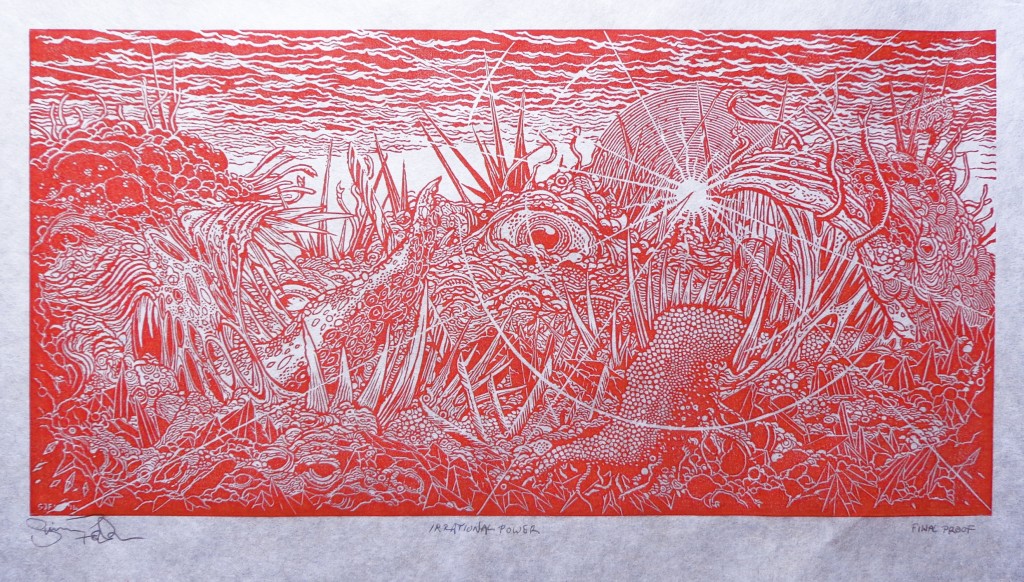 Brand new exclusive print to Cataract Press shop by Simon Fowler.
An irradiated post apocalyptic landscape of gore and deformity.
"We have harnessed the energy of the sun, it's totally out of control and there is simply nothing we can do about it" Dr Helen Caldecott 2011
20cm x 40cm, one colour hand carved hand printed vinyl engraving. Printed on 90gsm washi.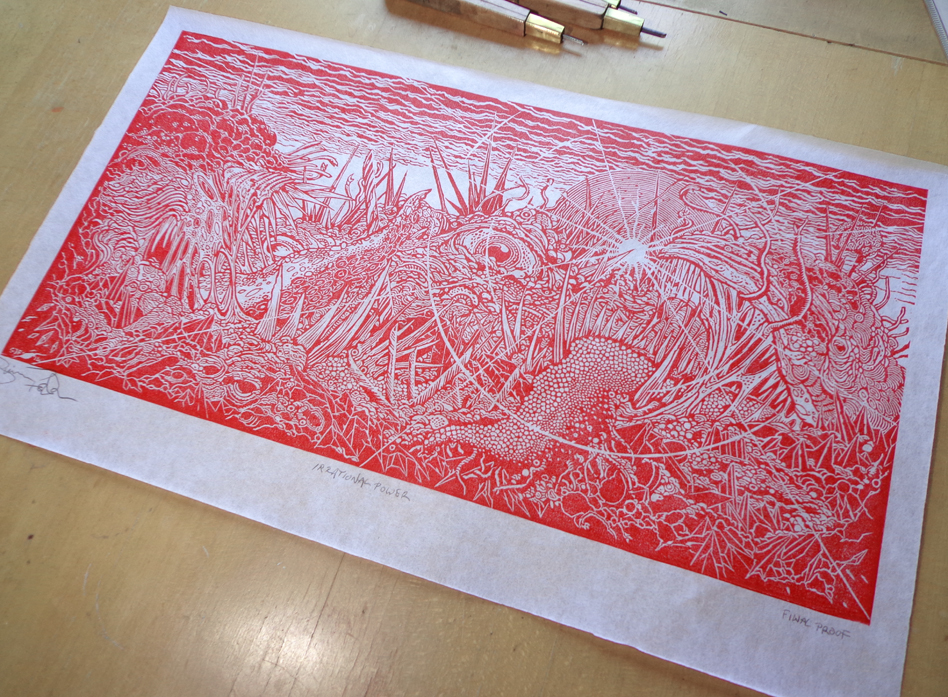 The Bug – NEW LOGO DESIGN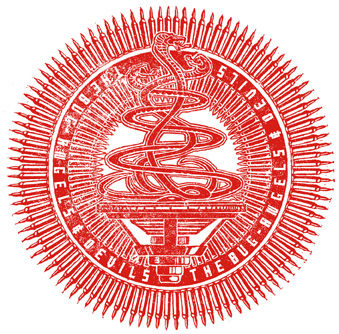 Hand carved rubber stamp logo design for The Bug.
The Bug – Angels & Devils Cover Art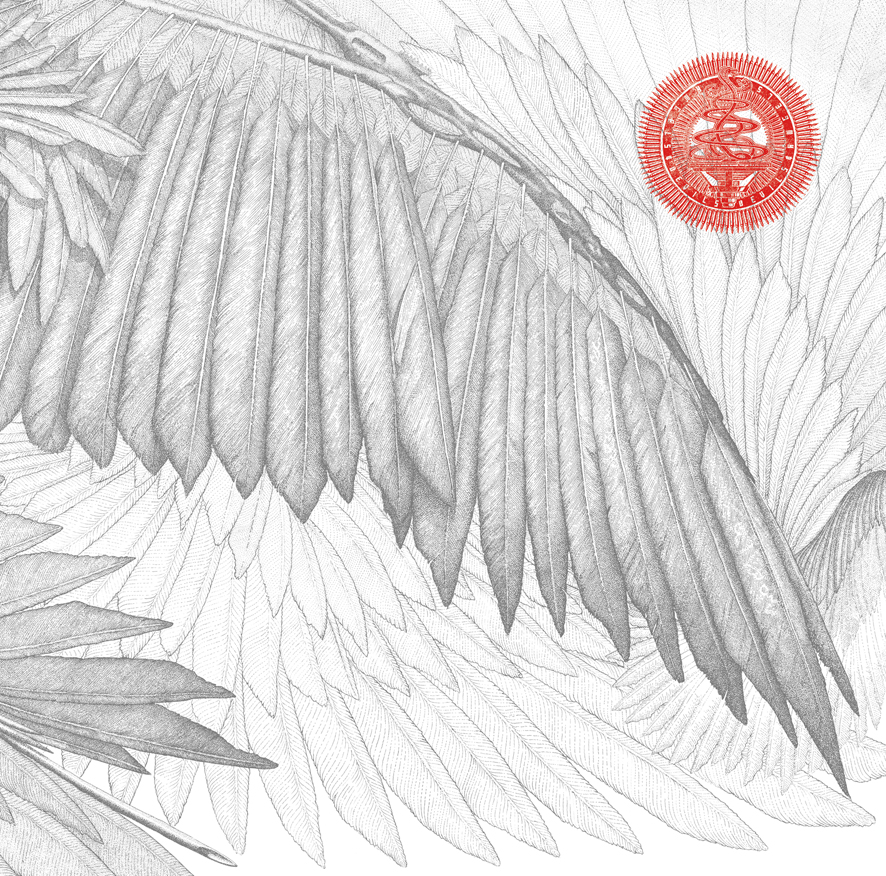 LUSTMORD THE WORD AS POWER – LIMITED EDITION SCREEN PRINT BY SIMON FOWLER
A limited edition 700mm x 420mm screen print of Simon Fowler's original illustration for the cover of Lustmord's 2013 Blackest Ever Black album, The Word As Power.
Hand screen-printed in two colours on Fabriano 5 300gsm acid-free archival quality paper, strictly limited to 100 copies only, each individually signed and numbered by the artist. First 50 available to pre-order now for early February 2014 dispatch.
Dylan Carlson & Rogier Smal + Thurston Moore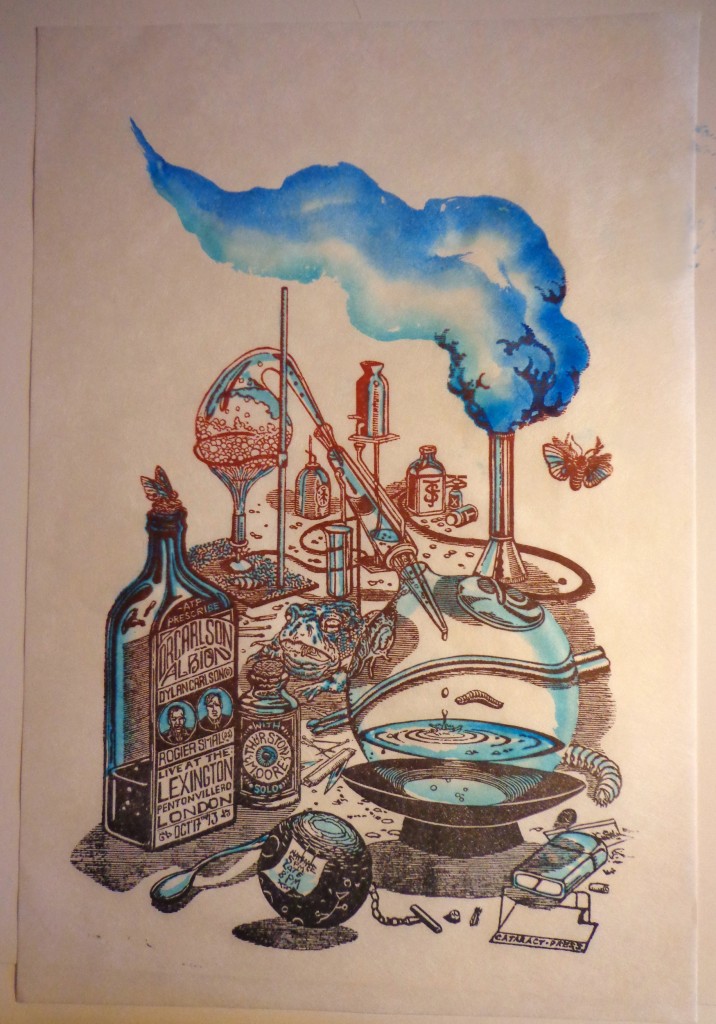 Alternate version of the print on sale at both shows at The Lexington on the 18th of October. Aprox A3, two colour gradient (Graphite to metallic deep red) with unique water colouring. Edition of 50, of which 35 are available to order only.
The print is a lino carving, hand printed on Kozuke white washi (8gsm)
Designed, printed and painted by Simon Fowler.
Signed and numbered.
I will start shipping on the 2nd of December, so they should arrive in time for Christmas.
Blackest Ever Black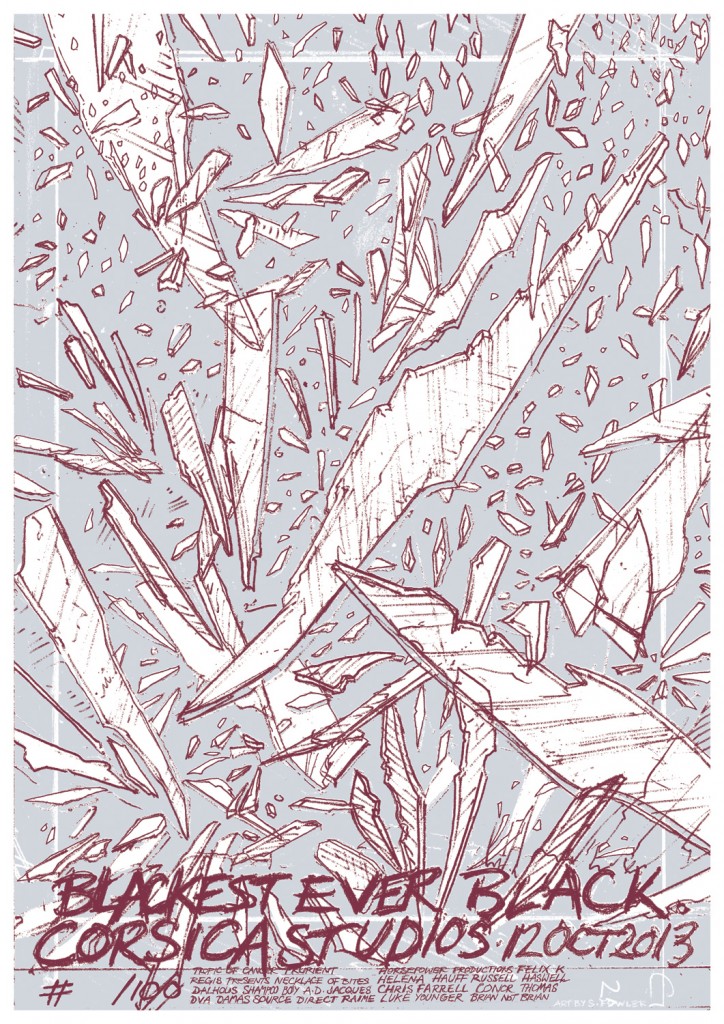 Limited poster edition for Blackest Ever Black showcase.
100 copies, hand detailed, numbered and signed.
Lustmord – The Word as Power – Blackest Ever Black LP/CD
"Come, let us go down and confound their speech."
The Word As Power is the new studio album by Lustmord, his first for Blackest Ever Black.
Half a decade in the making, it's an exploration of ritual music without dogma. For the first time in his 33-year career Lustmord places vocals at the centre of his abyssal ambient creations, coaxing incantatory performances out of Aina Skinnes Olsen, Jarboe (ex-Swans), Maynard James Keenan (Tool) and Soriah.
Those looking to properly decode the subject matter of the album are advised to study Simon Fowler's fiendishly elaborate, double-spread cover illustration. Suffice it to say here that it concerns "the word" as written – signs, ciphers, symbology, semantics, etymology – and as spoken – myths, mantras, chants, invocation and evocation. Of course it's also about the
unwritten, the unspoken; that which exists beyond the reach of language.
The Word As Power will be released by Blackest Ever Black in June 2013 on CD (BLACKESTCD004) and limited edition, gatefold double-vinyl (BLACKESTLP004). This is the pre-order page for the LP version.
All material conceived and produced by B. Lustmord apart from 'Babel' and 'Chorazin' which are based on traditional
elements.
Tracklist:
A1. Babel (10:01)
A2. Goetia (5:43)
B1. Chorazin (18:07)
C1. Grigori (13:38)
C2. Andras Sodom (6:53)
D1. Abaddon (11:25)
D2. Y Gair (8:07)
Recorded at Scientific Electric, Los Angeles, 2009-12. Mastered by Noel Summerville at 3345, London, April 2013.
Cover illustration by Simon Fowler. Layout by Oliver Smith. Distributed by Cargo.
Other resources: The Cataract Surgery Recovery Process